Podcast: Play in new window | Download
RSS
|
iTunes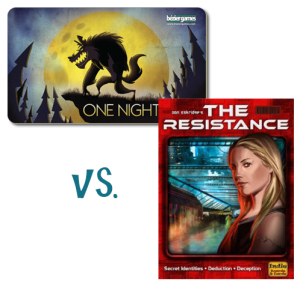 Hey, everyone! Thanks for joining us for the second episode of the Podcast of Nonsensical Gamers (PONG). First of all, thank you to everyone who took the time to listen to our first episode. This endeavor is definitely a work in progress but we are truly thankful for the feedback and the encouragement thus far.
With this podcast, we are going to experiment with two format ideas for the show. This episode is a review-based episode where we choose a game, or two, and discuss with other short segments sprinkled throughout. Regardless of the format, our overall goal is to produce an informative, entertaining, and slightly nonsensical listening experience.
In this episode, we discuss what we have been playing recently, find out what game causes Buns to get really grumpy, and we also discuss the strengths and weaknesses of social deduction games, such as,  One Night Ultimate Werewolf and The Resistance.
Show Notes
| | |
| --- | --- |
| 1:00 | Our goals and formats for the podcasts |
| 2:15 | What have we been playing? |
| 34:58 | Review/Comparison of One Night Ultimate Werewolf and The Resistance |
| 01:09:03 | Quiz Show |
Featured Games (in order of appearance):
Five Tribes
Lanterns
Discount Salmon
Micro Monsters
New Amsterdam
Samurai Spirit
Sheriff of Nottingham
Red
One Night Ultimate Werewolf
The Resistance