Dead of Winter Giveaway!
The League of Nonsensical Gamers (that's us!) has some of the best fans in the hobby and we want to thank you all for your continued support over the last 8 months. To celebrate your awesomeness, we are giving away a copy of Dead of Winter to one of our fans/followers!
The winner will receive 1 copy of Dead of Winter (including the Kodiak Colby promo card), the newest hotness to hit tabletop gaming from Plaid Hat Games.  For those unfamiliar, Dead of Winter is the first game in Plaid Hat's new Crossroads series where 2-5 players will work together in what is termed a "meta-cooperative" survival game taking place in a small, weakened colony of survivors in a world where most of humanity is either dead or diseased, flesh-craving monsters. Players will work together toward one common victory condition however, for there to be a true winner players will also have to complete their secret personal objectives. The fate of the colony rests in your hands…or another player's hands…the fate of the colony rests in someone's hands!  For more information on the game check out our interview with designers Jon Gilmour and Isaac Vega or head on over to Plaid Hat Games website. You can even sit back and let Rodney from Watch It Played explain the game to you!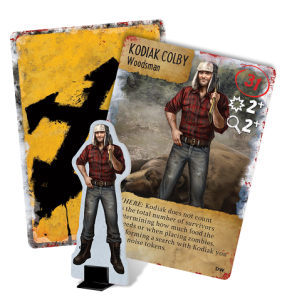 The giveaway will be open at midnight EST on Friday October 31, 2014 and run until 11:59 PM EST on Sunday November 9, 2014. A winner will be announced on Twitter and in our November 10 Boardcast News post.  Follow the instructions on the widget below to get your initial contest entries now and then make sure to stop back each day to share the giveaway with your friends for additional entries!