In recent years a lot of attention has been given to board game accessories. We nerds love to accessorize ("pimp") our beloved games out to the fullest. This lends itself in some cases to better organization, greater thematic immersion (a coffee shaped meeple is almost always more enjoyable than a black cube) or just plain geek cred and bragging rights. With all this talk about what goes inside the box, there have been very few products that offer a way to transport and care for these precious cardboard boxes. Enter, the Game Canopy, a beautiful high-quality game bag from Level3B!
I was lucky enough to be given a pre-production copy of the Game Canopy to try out for a few weeks. Spoiler alert: I really like it and here's why.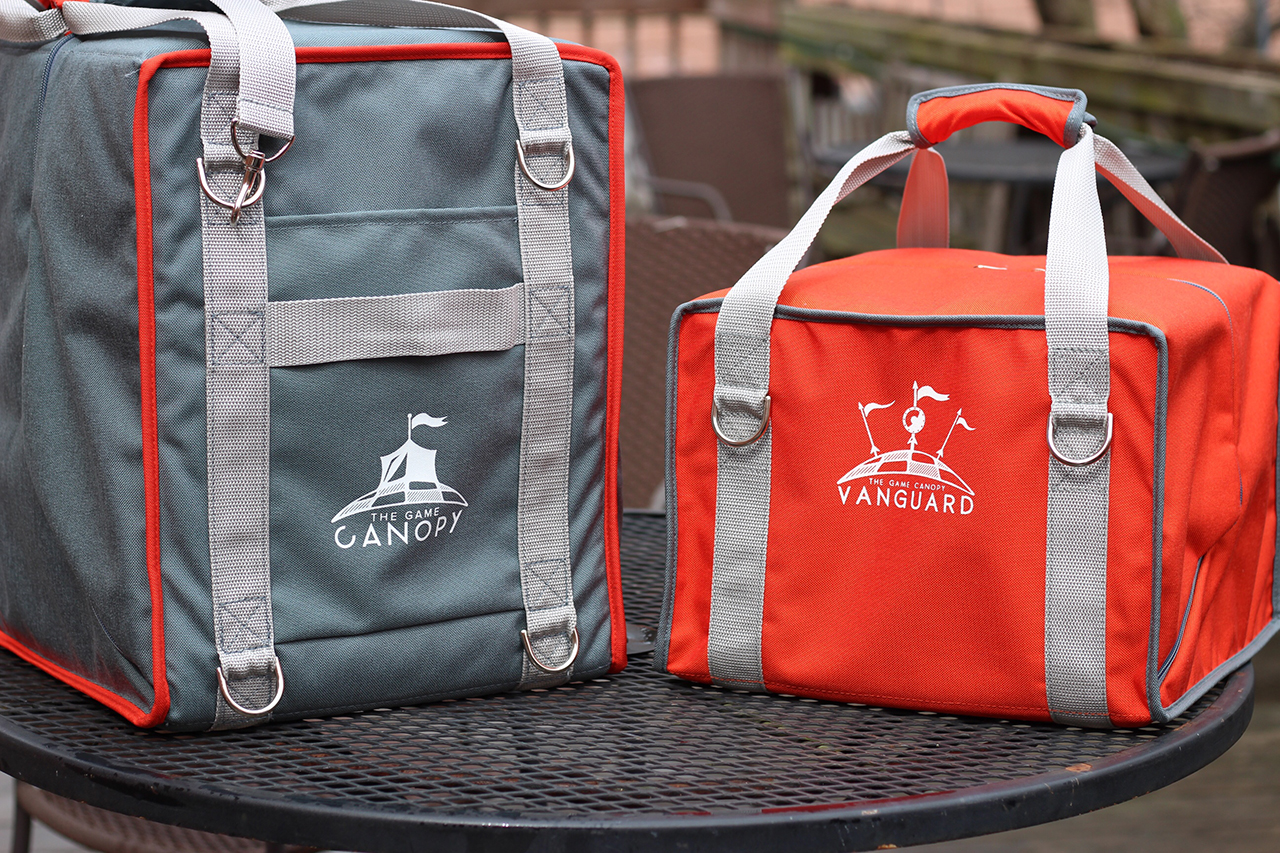 Quality
The first thing that stood out to me when unpacking our pre-production Game Canopy was the sheer quality of the materials. The bag is constructed of Condura fabric—which admittedly I had to research to understand what this meant. Condura fabrics are known for their durability through extended use which bodes well for the hobby gamer on the go. The fabric is also water-resistant which ensures that your beloved boxes stay dry when braving the elements. No one wants soggy cardboard. I personally tested this using five games which I do not care for (did you really think I would risk my copy of Terra Mystica or Village for a waterproof test). While walking outside for 5–10 minutes, I was happy to see that both the fabric and seams kept the interior of the bag rain-free.
Speaking of the interior, the Game Canopy features a thick foam padding to help keep your boxes free of dents and other damage. This proved especially helpfully in the trunk of my car which routinely hauls a baby stroller and other sworn enemies of cardboard such as my sports equipment (yes, at one point my softball bat thought it would be a good idea to punch a hole in my Imperial Assault box). Throw in the reinforced handle for a supportive grip and you've got yourself a very high quality game bag.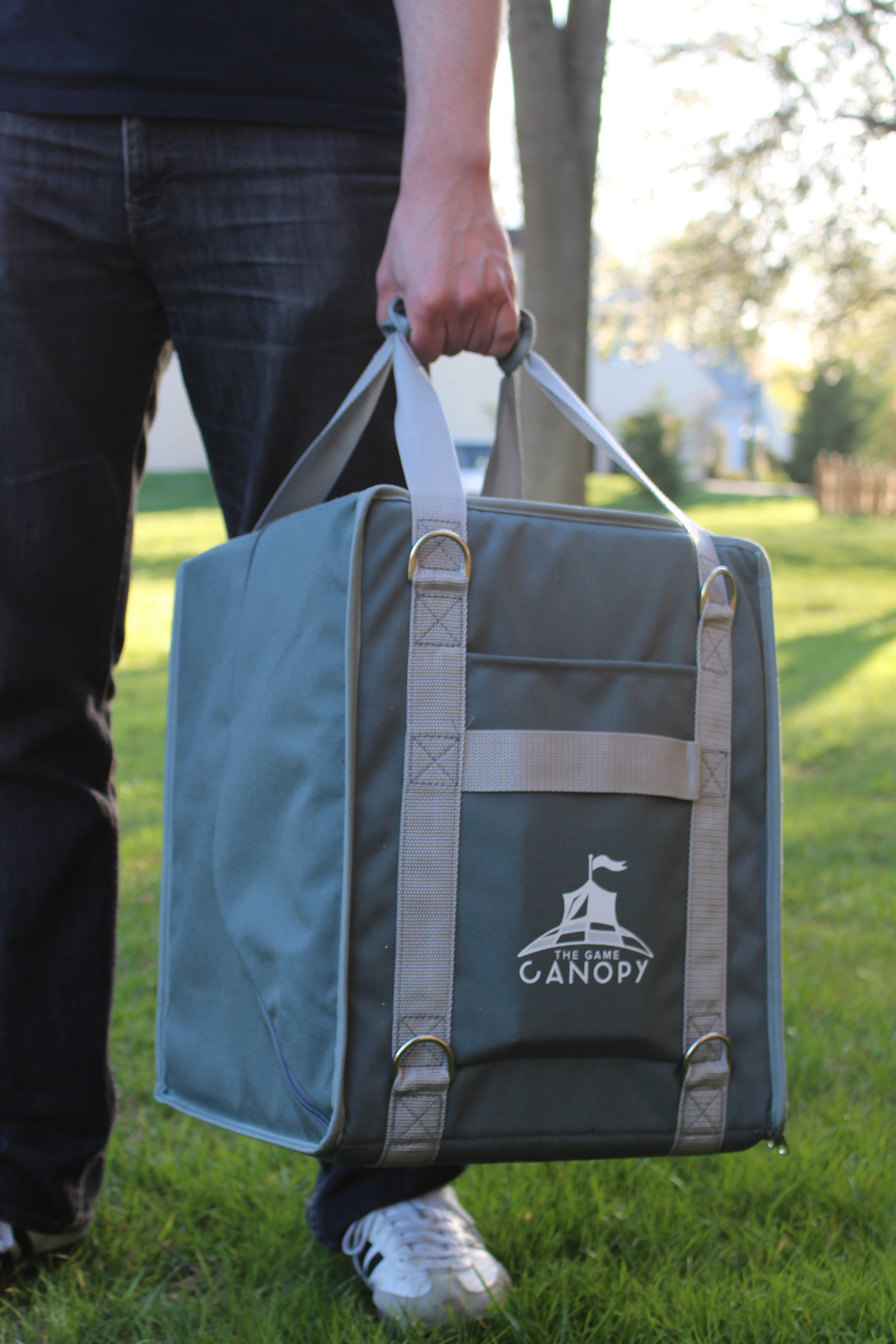 Storage
So, how much can you fit in this bag? A decent amount. As many of you know carrying around your games can take a lot of space. If you're anything like me, you always have a hard time choosing what games to bring that night so you throw as many things in your bag as possible. Some use the big blue bag from IKEA, others use a canvas bag from a convention or a Rubbermaid container—all of these options are perfectly viable and can handle varying quantities of games and box shapes. The Game Canopy however, is specifically tailored to fit at minimum five standard "Ticket to Ride" sized boxes. This was not only enough games for the evening, but it also helped me whittle down my options and make more decisive decisions on what to play (one of my biggest gaming character flaws). So, not only does this bag carry your games, it makes you a better person in the process. That being said, you can fit a wide array of other odd-shaped boxes as well. As you can see from the picture, I was able to fit six full-sized games of varying sizes as well as an additional five to six small-box games comfortably. Unfortunately, large awkward shaped boxes like Power Grid do not fit. But if you plan on playing Power Grid, you probably won't have much use for additional games that evening anyways.
The front flap of the bag opens flat which allows you easy access to view or retrieve a game from the bag without having to unpack every single thing in it. In addition to the main game storage, there are a number of subtle features on the outside of the bag too. A couple of side pockets could fit your personal electronics, small box card games or deodorant (please, people, carry this at a convention). The bag also features a number of "D-Rings" for hanging your keys, water bottles, hand sanitizer (like dry land, con crud is not a myth) or even attaching the add-on shoulder strap for an alternate way to lug it around. All-in-all there are a number of nice features included. The glaring flaw here being the box size restrictions, but it is certainly something I can live with.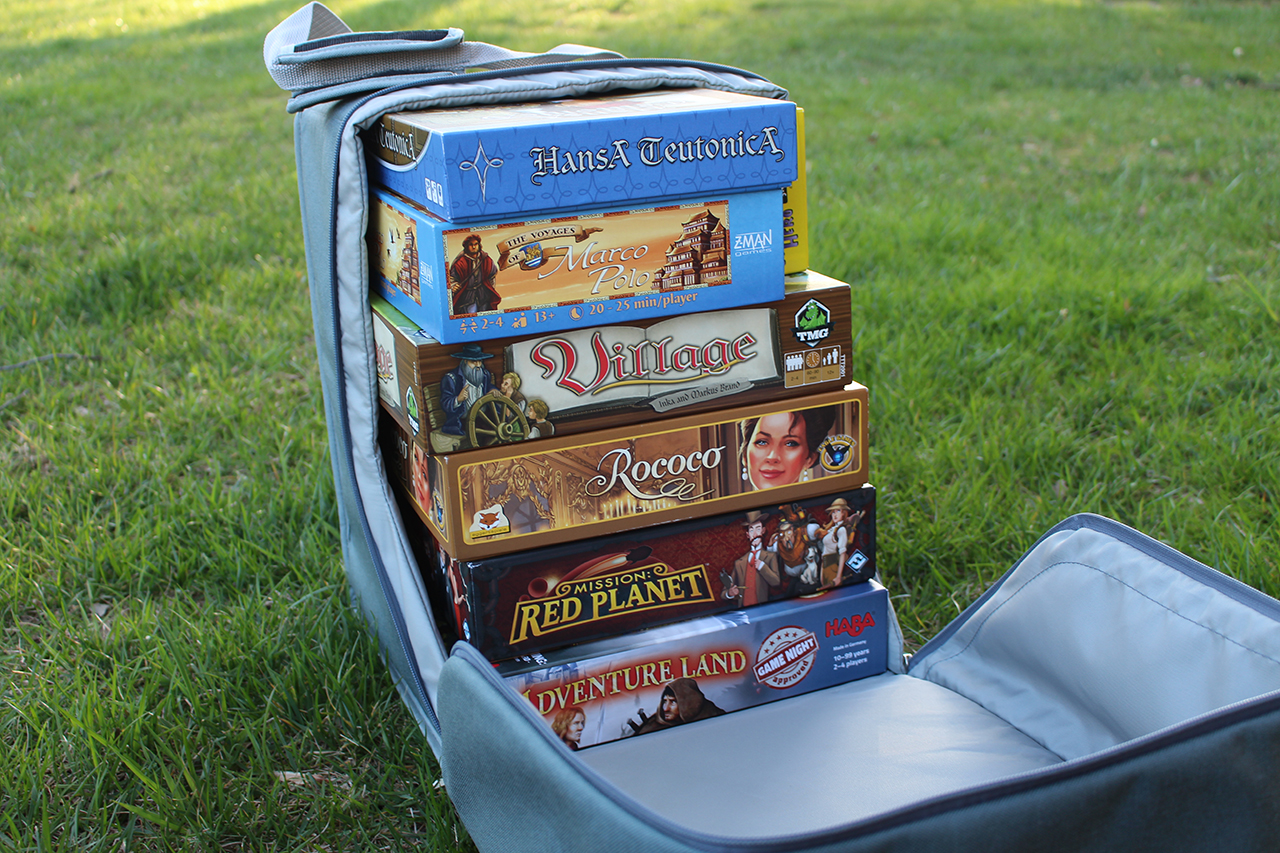 Price
Now, I know the question on everyone's mind at this point in the post is "How much is this going to cost me?" Well, that depends. The Game Canopy will hit Kickstarter on April 20, 2016. The listed MSRP for the bag is in the neighborhood of $150, but backers of the project will be able to get a special discounted price of $117 without the shoulder strap and $129 with the strap. But my IKEA bag only cost me $1.29!" Yes, it did and I know from experience that it is a perfectly suitable means of transporting your games.  Heck, for $129 you could buy 3 or 4 more new games to throw in the IKEA bag — I fully understand that. The bottom line here is that the Game Canopy is a luxury good, much like board games themselves. If you have the means to back this project, I fully endorse it! The Game Canopy is a sleek, stylish and extremely high quality method for transporting your games safe and sound. You will not regret your decision.
Note: The Game Canopy also has a little brother named the Vanguard which will fit 3 standard sized boxes with the same Cordura fabric. The differences, aside from size, are the side pockets and side handles are removed and the bag will only be padded on the bottom. We did not have an opportunity to preview the Vanguard, but it appears to be a smaller, more economic alternative to the Game Canopy.

The League of Nonsensical Gamers would like to kindly thank Level3B for sending us a pre-production Game Canopy for review. Be sure to carry yourself on over to their Kickstarter campaign for more details to see if the Game Canopy is good fit for you.
If you'd like more information on  the Game Canopy or Level3B please visit their website at http://level3b.com and subscribe to their newsletter updates.