Well, 2014 is officially behind us, so it's time to reflect on all of the tabletop awesomeness that we were able to experience! I'd say it's probably impossible to narrow things down to just five games, but here's my go at trying to decide on my favorite five games from 2014:
5. Euphoria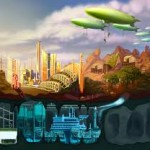 Euphoria is one of the first games that really sucked me in thematically. The allusions to dystopian fiction and the captivating art style made me soft to the dice-as-workers gameplay. While critics have a rightful claim against some of the mechanical choices, and the fact that an entire portion of the game was a Kickstarter stretch goal, it still remains one of my favorite worker placement games because of the overall experience found within the box. Euphoria is a fun game wrapped in a fantastic package.
---
4. Chimera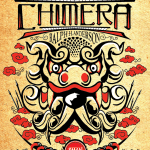 Classic card games had firm footing in my childhood, so news of a 3-player only trick-taking game, a la Tichu, had my attention. The production of this Z-Man small box game is off the charts for this style, with components that make the game worth it's $25 price tag. Chimera's game play is straight forward, but has the tactical challenges of it's predecessors – making it a game that never goes out of fashion. If you have two friends and enjoy simple card games with a lot of layered challenge to unfold, look no further.
---
3. Legendary Encounters: Alien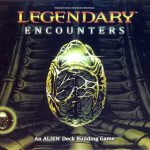 I received Legendary Encounters: Alien as a Christmas gift and it has already jumped it's way up my list. After only a few plays, I can assert that this is everything that I wanted the Marvel Legendary game to be. It is fully cooperative – none of this point-chasing, semi-coop stuff – and introduces new card abilities to better embrace the need to work together. Additionally, the game oozes theme and, as an Alien fanatic, I found immeasurable joy in traveling through the films, engaging with key characters and advancing the plot. There's a lot of game here, with more on the way, and I am very pleased with how UpperDeck has transformed this system into a much better game, rather than simply re-skinning it's previous product.
---
2. Abyss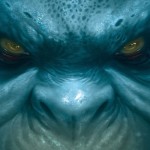 If you've listened to The Podcast of Nonsensical Gamers (which you should!), you know that I am a bit infatuated with Abyss. This game is layered with unseen depth that transforms a simple set collection game into something much more thinky and opaque. Add on some of the best artwork that I've seen in board gaming to-date, and you have an extremely enjoyable experience that offers subtle variations between plays and with various player counts.
---
1. Hyperborea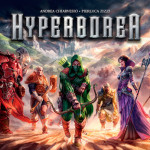 Hyperborea is a game that wasn't on my radar until I happened to win it in a contest. I am now a devout Hyperborea missionary. This game is everything I want out of a hybrid-genre game. A clever bag-building mechanic is combined with a fantasy theme and area control on a modular board – all done up with lavish production quality and a boat-load of options to keep things fresh. Game play is easy to grasp but so fun to learn and master. Creating combos as a result of well-designed strategy and a little bit of luck feels good and the games overall provide everyone those moments while still remaining balanced. This was a surprise hit with me and easily my favorite game from 2014.