If you can dodge a wrench you can dodge a ball; but can you dodge a spell, too? Wizard Dodgeball, the debut game from designer Peter Newland and Mind the Gap Studios, is a fast paced and entertaining dodgeball simulator that whimsically utilizes wizards as its protagonists. Pick your team (no feelings will be hurt), choose your spells, and grab your balls. Dodgeball!
You will start each game by drafting a team of five miscreant wizards, of all shapes and sizes, to lead into battle. Each wizard comes equipped with a unique skill set and a "magic" value which contributes to your aggregate pool of points to spend on spells that range from Sticky Fingers to Fireballs. Careful selection of your magical arsenal at the outset, along with well timed usage within the game, has the potential to weigh heavily on the outcome.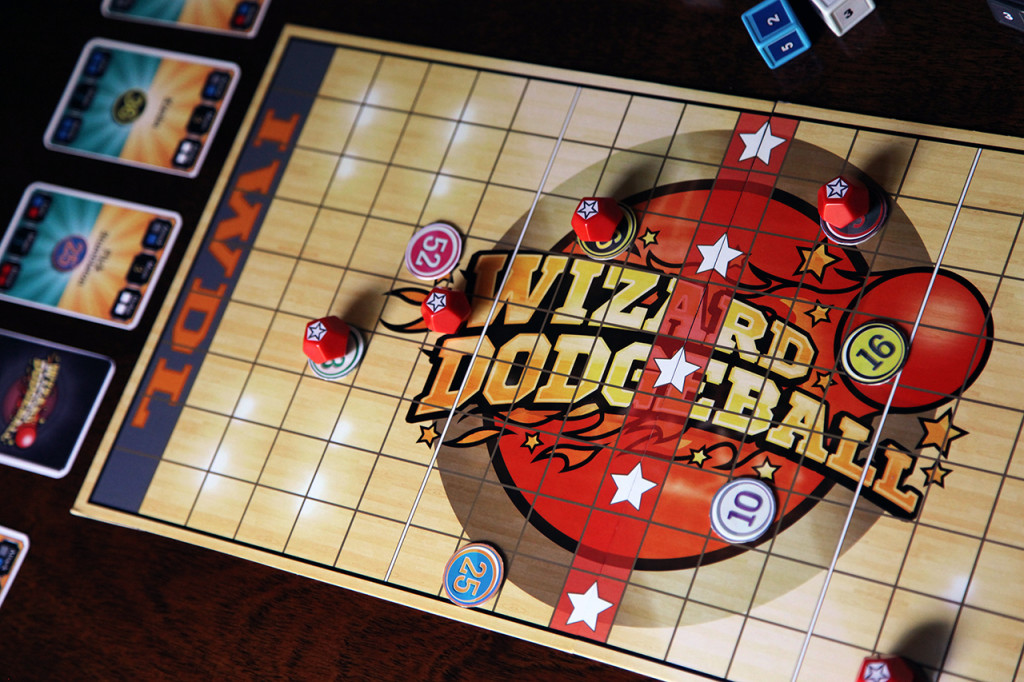 Dipping, dodging, ducking, diving and dispensing spells all rely on your ability to win over lady luck as both success and failure for your actions in Wizard Dodgeball hinge predominantly on the roll of the dice. There are four different colored dice in the game – white, black, blue and red – each of which incrementally increase in face value to better your chances of success. Your wizard's skill rolls are made up of a combination of two colored dice and are matched up against the reverse skill of your opponent's targeted wizard. For instance, when I throw a ball, I roll the two dice for my throw skill while my friend rolls the two dice for his dodge skill. Spells are cast in the same manner except using the cast and resist skills instead. The result is as simple as adding up the values of both sets of dice and comparing them; highest roll wins. Tactical positioning, similar to a light miniatures war game, in combination with clever targeting and spell play will be key to your success. Play continues until you have eliminated all of the wizards on the opposing team.
Wizard Dodgeball has been wonderfully designed to bring the fun and quirky essence of dodgeball to your tabletop. The artwork and graphic design is simple and clear, allowing you to immerse yourself in a gymnasium battle arena with minimum referral to the rulebook. Will this game be for everyone? No. The game is heavily reliant on the luck of the die. To the game's credit, it does provide ample opportunity to mitigate your chances of success through target selection and the tactical maneuvering of your wizards on the board. While playable with a larger group through variants, Wizard Dodgeball is at its heart, a two player game. For this reason, I have found that this is not a title that will be likely to see ample play time at our larger gatherings.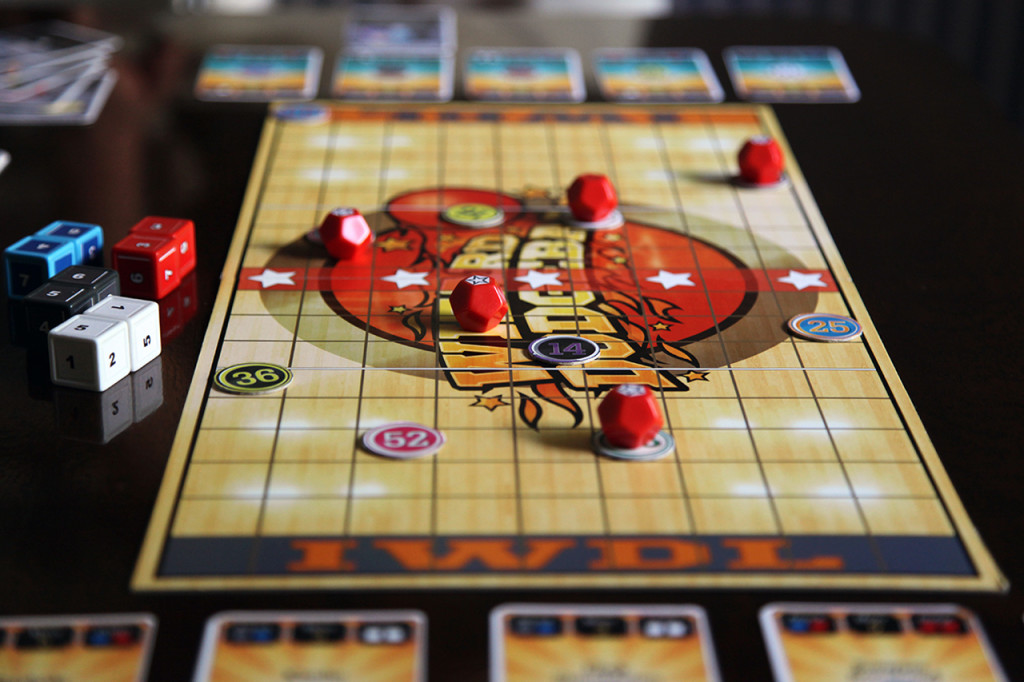 Those looking for a deeply strategic game will not find one here, and that's ok. In my opinion, this game is targeted towards a more casual crowd that is looking for a quick and easy to learn nostalgic romp through one of our favorite childhood pastimes. The game offers plenty of miniature-like tactics, thrilling die rolls and, dare I say, magic moments that will leave you satisfied when the game is over no matter the result. Just watch out for the wrench!
The League of Nonsensical Gamers would like to thank Peter Newland for kindly providing us with a prototype of Wizard Dodgeball for this preview.
Wizard Dodgeball is currently funding over on Kickstarter. If this game piques your interests, dip on over to the campaign page by March 24, 2015 to purchase your own copy. For $35, you will receive a copy of the game along with all of the stretch goals that have been attained.