Camel Racing through the Bizarre
With the Euro currency being as low as it's been, I decided to explore some of the European publisher sites to see if there was anything interesting I may want to pick up with my Christmas cash. Poking around on the Pegagus Spiel site, I noticed two board game news items that got me excited (this was also reported briefly over on Board Game Geek as well).
First up is Camel Up: Supercup, an expansion to the 2014 Spiel des Jahres winner, Camel Up (our review here), and one of our favorite games from last year (it made 4 of our Top 5 of 2014 lists – Dan, Tiff, Steve, Mike). The new expansion looks to add 4 additional modules that players can use as they see fit as well as adding two additional players (for a total of 10). The expansion page on Pegasus Spiel's website loosely translates as such:
For the Supercup, up to ten players can ride the camels through the desert and the risk tips in search of wealth. And of course the new race also offers new opportunities: How about allowing the photographers to record the spectacular racing moments royally. And the juicy coconuts from the palm grove bring even the lamest camel again to their toes.
If you understood that, awesome! If not, stay tuned as we get more information out of the Nuremberg Toy Fair in February.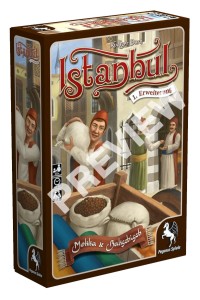 Next thing of interest was Mocha & Baksheesh, the first expansion to the 2014 Kennerspiel des Jahres winner, Istanbul (I'm seeing a money-making trend here!). For me this is welcome news as I felt that Istanbul, after a number of plays, became "solvable" in certain setups and way too drawn out in others. This expansion looks to add 4 new location tiles and a couple of new mechanics to increase player interaction and earn the coveted rubies. Again, a loose translation of the Pegasus Spiel website reads:
Fine fabrics, the finest spices and fresh fruit ensured Istanbul was ready for good business. But now the bazaar visitors have a new delicacy, coffee. The demand for the aromatic beverage has increased so much that even the shrewd traders want to go into business with the delicious bean. However, in order to pass the new challenge, they are also in need of support, which goes beyond that of their agents.

The first expansion of the "experts Game of the Year" 2014, Mocha & Baksheesh, brings four new places, more interaction between the players and new ways to gain the coveted rubies. The Bazaar favorite of all gaming enthusiasts just got a little more attractive.
(For any readers who may speak German better than Google Translate, please let me know of any mistakes in the translation)
Marco…Polo…Found you.
Fans of Tzolk'in: The Mayan Calendar rejoice as Board Game Geek reports that designers Simone Luciani and Daniele Tascini have a new game debuting in 2015 titled Auf den Spuren von Marco Polo (Translation: In the Footsteps of Marco Polo). Having just finished watching the Netflix original series, Marco Polo, I am ripe for a game in this period of time. Details of the game are scant at the moment. According to publisher Hans im Glück:
In 1271, 17-year-old Marco Polo started on a journey to China with his father and older brother. After a long and grueling journey that led through Jerusalem and Mesopotamia and over the "Silk Road", they reached the court of Kublai Khan in 1275.

In Auf den Spuren von Marco Polo, players recreate this journey.
The game board looks interesting so hopefully more details will begin to funnel out after the Nuremberg Toy Fair.
Prince, Madonna…Catan
Mayfair Games announced last week that their revolutionary game, Settlers of Catan, would be getting a makeover this year, which marks the 20th anniversary of its release (how old do you feel right now?).  The aim of the new box cover and logo (now just referred to as CATAN) is to provide visual continuity across the worldwide brand. What this means is now we Americans will have the same box art as the rest of the world. Everyone else prior to this had the same branding (to my knowledge). As far as I know, the game itself will not receive any updates to its presentation/rules. Mayfair Games' announcement:
At this year's International Toy Fair in Nuremberg, Kosmos and Mayfair Games are proud to announce a new look for the entire line of Catan® games. The new look will strengthen the Catan brand both domestically and internationally. The new cover art utilized by all partners will provide a visual continuity throughout the world.  This new look is more vibrant and alluring with overall improved presentation and splendidly clean branding.  The new packaging cries out… CATAN!

In the 20 years since Klaus Teuber revolutionized game design with the original Settlers of Catan®, a worldwide fandom has developed around the game. The original game, plus its expansions have sold more than 22 million copies and has been translated into 30 languages.

As part of the growing expansion of the Catan® family of products, the base game will simply be called CATAN® in all countries and languages, along with a unification of the game's graphic design in all territories and languages.

Catan's creator, Klaus Teuber, said that "By means of this change, we will continue to grow global demand and modernize the Catan family of games."
My box is bigger than yours
As reported in last week's Boardcast News, El Grande is getting the big box treatment. Z-Man Games recently confirmed that they will be publishing the El Grande Big Box in English this year. For all of those who weren't looking forward to learning Dutch (while having a smoke and a pancake), you now have options.
Until next time, stay classy and keep your games tight!