Mechs out to Pasture
In Stonemaier Games November Update, they announced a new title coming from Jamey and Alan titled Scythe. Based on the amazing illustrations of Polish artist Jakub Rozalski, the game will transport players back to an alternate history of the 1920's, one full of "farming and war, broken hearts and rusted gears, innovation and valor" in what the designer has deemed to be Agricola meets Kemet. Here is the game as described by Stonemaier Games ' website:
In Scythe, players work as individuals (or pairs using a new communication mechanism, expanding the game up to 10 players) to lead their country to victory by conquering territory, recruiting new villagers and troops (each with a unique name, story, and skillset – these aren't faceless, generic soldiers), reaping resources (which stay on the map, thus drawing opponents's attention to certain areas if players stockpile resources), and building monstrous mechs. Scythe uses a card-driven simultaneous action selection mechanism to keep the game moving at a brisk pace, with players then taking individual turns to carry out those actions on the map.

Scythe has no player elimination, and it might have a few miniatures, but most characters will be represented on the map via cardboard standees. Each country is completely asymmetric.
The game is still in the early stages of development, but Stonemaier has stated that it will be available via Kickstarter at some point in 2015. Stay tuned for more details. In the meantime, head on over to Kotaku and check out some of Rozalski's awesome art that inspired the game.
X-Men in the Colosseum
WizKids announced a partnership with Gale Force Nine to publish X-Men: Mutant Revolution in 2015. The game will be based on GF9's popular title: Spartacus: A Game of Blood and Treachery. Unlike the gazillion re-skinnings of games like Love Letter, this one actually has me excited. I am a big fan of Spartacus, a game which is not mechanically the most innovative but truly produces enjoyable and memorable experiences whenever it hits the table; the fact that I can now play it with my favorite comic book characters is awesome. Two to four players will be able to play as classic X-men including Wolverine, Cyclops. Magneto or Storm, each using their unique powers and abilities in a bid to recruit heroes and students to their different schools. From the WizKids announcement:
In the aftermath of the Phoenix event, new mutants are appearing all over the Earth. Wolverine, Cyclops, Magneto, and Storm each have a vision for the future, but will they unite humans with mutants or will they tear the world apart?

"X-Men: Mutant Revolution" Features:

Play as Wolverine, Cyclops, Magneto, or Storm as they lead their school with unique powers and abilities. Recruit heroes and students. Train your team. Send them on missions to spread your vision for mutants to the world.
2-4 players battle head-to-head for the future of mutantkind as leaders of the mutant schools.
Based on the bestselling "Spartacus: A Game of Blood and Treachery" from Gale Force Nine.
Includes four (4) pre-painted character miniatures and bidding dials featuring the Combat Dial® (HeroClix) technology.
Chess to Haunt your dreams again
Bruno Faidutti announced on his personal blog that Knightmare Chess, one of his first designs from 25 years ago, will be back on US shelves thanks to Steve Jackson Games. I will be the first to admit that I do not know very much about this game, but I am always interested in Chess variants as Chess was my first love. From the BoardGameGeek description the game is described as such:
Knightmare Chess adds a whole new element of unpredictability to the static game of standard Chess by giving players cards that they can play before, after, or sometimes instead of their turns. Some cards affect only a single move, while others change the entire game. Each card is assigned a point value, so you can build custom decks based on an agreed point total or handicap the match so that the better player has fewer powerful cards. Multiple variants are included in the rules.
A real Pandemic
Game Designer Matt Leacock has utilized his award winning disease spreading game Pandemic to support a very worthy and very real cause: Ebola. With the goal of raising $100,000 for Doctors Without Borders, Mr. Leacock has invited players around the world to help the cause through a series of Pandemic Parties. Here's how you can help:
1. Assemble Your Team: Invite friends over to play Pandemic and let them know you are raising funds for Doctors Without Borders.

2. Fight the Outbreak: Play Pandemic with your friends! Put out a jar for donations along with a flyer or set up a computer where your friends can go online and contribute directly. No worries if not everyone contributes; you'll have fun together and you'll be providing a great excuse to do some good.

3. Donate: Our goal is to raise $100,000 through Pandemic Parties worldwide by January 31, 2015. We can do it with your help. It doesn't matter if your party raises $10 or $10,000, you will be part of an international effort to stop Ebola in its tracks.

4. Spread the Word: Share your experience on Facebook or Twitter. Let others know how they can help fight Ebola by sharing the link to this page. http://pandemicparties.com/
If you would rather attend a party instead of hosting, there are more than 60 events going on worldwide so be sure to have a look and get involved!
FFG takes your digital money now
In app news, two of Fantasy Flight Games' board games got the digital treatment last week: BattleLore – Second Edition and The Witcher Adventure Game.  These titles have hit devices just in time for you to fill those slow hours in the office around the holidays. Here is a brief description of each app as presented on the app store: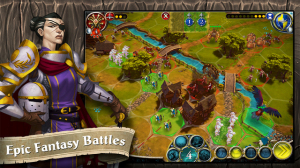 BattleLore: Command, $10 (iOS / Android)
Command valiant warriors and vicious demons in BattleLore: Command, based on the board game BattleLore Second Edition. Lead the noble Daqan army as they fearlessly defend their homeland from the invading hordes of the Uthuk Y'llan– demon-blooded barbarians spreading chaos and destruction wherever they go. Or, lead the Uthuk Y'llan and channel their fury into military supremacy. Whether you're a proven commander or have never before fought a battle, BattleLore: Command provides a suspenseful and challenging tactical combat experience.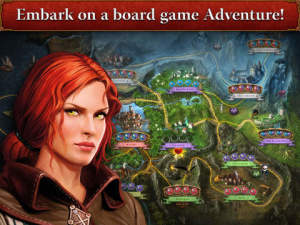 The Witcher Adventure Game, $6 (iOS / Android / Steam)
The Witcher Adventure Game is a digital adaptation of CD PROJEKT RED's board game set in the brutal, dark fantasy universe of monster slayer Geralt of Rivia. Embark on a journey across the beautifully rendered world of The Witcher and complete a variety of quests: hunt for deadly beasts, solve ancient mysteries, and take part in complex political intrigues. Make choices and face their brutal consequences in a world begging to be explored!
Until next time, stay classy and keep your games tight!