Cthulu in a Komono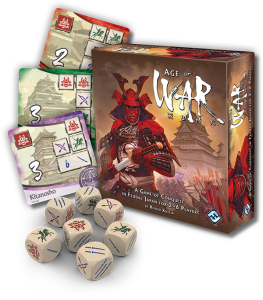 Fantasy Flight Games (FFG) announced Age of War, a new dice game set in feudal Japan and created by the real-life Riddler, Reiner Knizia.  In this game, you take on the role of a daimyo, competing to vanquish your opponents and unite all of Japan using dice which represent the troops you will muster to conquer castles and gain renown.  At first glance this looks like Japanese Elder Sign but I will always give Knizia the benefit of the doubt.
A successful run on the collectible card game corporation?
FFG also introduced draft play to the Android: Netrunner Living Card Game (LCG).  I must say that I am excited by this new experience because the one thing I miss most about collectible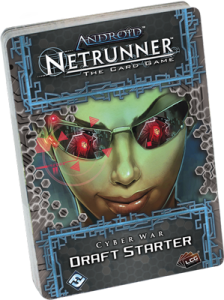 card games are the sealed and draft formats.  LCGs, until now, have not offered this mode of play and it made me sad.
Cyber War is the first A:NR draft set being offered by FFG.  Each player participating in a Cyber War draft will need to bring three items: a sixteen-card Draft starter and two forty-card Draft Packs, one each for Corp and Runner. The Cyber War draft set is a selection of 169 cards, and in a draft, each player must bring one fixed, sixteen-card Cyber War Draft Starter; one randomized, forty-card Cyber War Corp Draft Pack; and one randomized, forty-card Cyber War Runner Draft Pack.  This looks to be an interesting format and a great way for FFG to branch out their LCGs.
For more information check out FFG's Android: Netrunner Draft Play description page.
---
Don't Forget about the Chibi King
Soda Pop Miniatures will be back on the Kickstarter scene in March with the next edition of Super Dungeon Explore: Forgotten King. This fully backwards (kinda like the first edition's rulebook) compatible stand alone game will introduce a new cooperative game play mode in addition to the classic "get dominated by whoever plays the monsters" mode. According to their Press Release, Soda Pop also promises the following additions:
All models come FULLY ASSEMBLED in the box.
NEW and exciting interactive dungeon tiles bring new dimension to gameplay.

Streamlined rules get rid of the Adventure Tracker to keep the action on the tabletop.

New unit types: Pets, Creeps, Traps.

New Princess Coins keeps Heroes in the game battling evil.

Go deeper into the world of Crystalia with colorful illustrations and background.

Spawn more mini-bosses creating deadlier fights.

Built for easier expansion for future gameplay modes such as PvP Arena and campaign play
---
Defend that which is Tiny
Gamelyn Games also announced last week on Facebook that a new Tiny Epic game will be introduced on Kickstarter in Q2 2014:  Tiny Epic Defenders.  In Tiny Epic Defenders, players will work together to defend against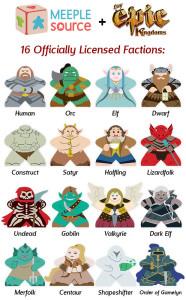 the tiny horde and slay the Tiny Epic Foe.  Each class available to the players has a unique power that you will need to utilize to defeat the wave of tiny monsters, and live long enough to face the Tiny Epic Foe!  Will you stand…tall?
Not so tiny giveaway
With the announcement last week that Gamelyn Games has teamed up with MeepleSource.com to produce meeples corresponding to the races in Tiny Epic Kingdoms many of our wallets cried.  This Tiny Epic Kingdom just became a tiny bit more expensive and a tiny bit more epic at the same time.  Lucky for us Today in Board Games has partnered with MeepleSource.com and Gamelyn Games to bring you the Ultimate Tiny Epic Giveaway. The winner will get one deluxe copy of Tiny Epic Kingdoms from Gamelyn Games, plus a complete set of 112 matching character meeples from MeepleSource.  Pretty sweet, but hurry!  I am late on my news this week so you only have until March 6 to enter and win.
---
Better than playing a game in Sochi
Publisher Hans im Glück announced a new crowdfunding project for the version of the classic Saint Petersburg.  But, this is not just any remake.  This version will dedicate eight cards to outstanding members of the international board game community; voted on by you, the fan!   The new edition will also feature components for a fifth player, a new game phase as well as redesigned artwork and rulebook.  Look for this new project to hit European crowdfunding site Spieleschmiede.de on March 21st.
 To cast a vote for your favorite designer, artist and/or personality, simply go to  https://www.spiele-offensive.de/?cmd=sp_vote.  
 I am personally voting for the Monopoly Guy.
---
Everything Brazilian is sexy…even their games
I was telling my brother weeks ago that the art for the new Brazilian version of Coup looked absolutely amazing.  Well, my dreams have come true and this beautiful version of the popular bluffing card game has an international crowdfunding project going on right now where you can score your very own copy.  A single copy will cost you a hefty $38 for the game and shipping.  That's crazy! But, the campaign is offering a 6-pack bundle for $124 or roughly $21 a copy.  So if you can gather a few friends and grab the 6-pack it makes much more sense.
On that note, if anyone would care to join me in my quest to find 5 more people to go in for a copy, please email or tweet me and we'll make it happen.
---
BoardGamesFor.ME
Having trouble deciding what boardgames to blow your next paycheck on?  Look no further!  There's a new website in town and it goes by the name BoardGamesFor.Me.  This site offers great boardgame recommendations for beginners and veterans a like based on criteria you choose.  Filter options currently available include: Game Type, Group Size, Duration, Age, Mechanics and Theme.  Each recommendation provides a description linked from BGG and an Amazon link if you are spontaneous enough to purchase on the spot.  The designer promises additional features to filter the recommendations further.  If you haven't had a chance to check it out I highly recommend you give it a looksie.
---
BoardGameGeek Golden Geek Awards
And finally, for those who may have missed it, the BoardGameGeek Golden Geek Winners were announced.
The results…
| | | |
| --- | --- | --- |
| Game of the Year | | Best Abstract Game |
| Best Card Game | | Best Wargame |
| Best Children's Game | | Best Party Game |
| Best PnP Game | | Best Two Player Game |
| Best Strategy Game | | Best Thematic Game |
| Best Family Game | | Best Expansion |
| Best Art & Presentation | | Most Innovative |
I enjoy all of those games!  That's all I have to say on the matter.
Until next time, stay classy and keep your game(s) tight!