Mage Wars rolls a Crit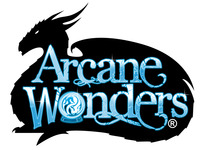 You know him as Tox from Crits Happen but yesterday Arcane Wonders, the makers of Mage Wars, announced that he will now also be referred to as Scott Morris, Vice President of Business Development! From Arcane Wonders website:
Arcane Wonders is pleased to announced that on Tuesday, March 18th, Scott Morris will be joining the company as the new Vice President of Business Development! In this role, Scott will focus on sales, marketing and distributor relationships in order to grow Mage Wars the game as well as Arcane Wonders, the company.
The League would like to send their sincere congratulations to Tox/Scott! This role seems perfectly suited for his passion and knowledge of tabletop games and more specifically Mage Wars.   We wish him all the best!
TMG celebrates its 5th birthday down by the Harbour
More things to celebrate!  Last week Tasty Minstrel Games (TMG) celebrated their 5th year of providing us with some truly awesome games (Village, Belfort, Eminent Domain, etc). To celebrate, they have released a free Print & Play for the upcoming game Harbour by Scott Almes, the newest hotness in boardgame design. TMG is bringing back artist Robert Lundy (Dungeon Roll, Burgoo) for this title as well. Harbour promises to be a quick and easy to learn economic euro game for 2-4 players which plays in about 20-30 minutes. From TMG's Tasty News #39:
The players are ambitious entrepreneurs in a Fantasy port city. In the game, they must collect and exchange goods, make shipments, manipulate the market, and purchase as many buildings in the harbour as possible. The player who has the most valuable buildings at the end of the game wins!
After initial review, I think its safe to say that TMG will have another hit on their hands when it arrives on Kickstarter in May 2014.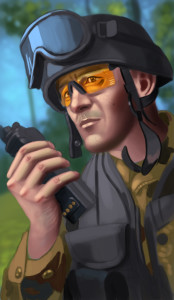 It's going to be a blast
Also announced by TMG was Bomb Squad, a new real time cooperative game from Dan Keltner and David Short.  In Bomb Squad, players are programming a robot to navigate a building, free hostages, and disarm bombs.  To program the robot, you place cards face down prior to activating it.  In the same vein as Hanabi, the trick here is that you do not know what cards you have until the other players fill you in via clues.  This game will also have artwork from the same folks that illustrated Flash Point.  There is currently a Print and Play version of the game on BGG, and I predict that this one will surely explode when it hits later this year.
Stronghold gets Stronger and picks up Panamax
Stronghold Games and MESAboardgames have teamed up to release Panamax, an economic game from the up and coming designers of Madeira, where players will move ships and cargo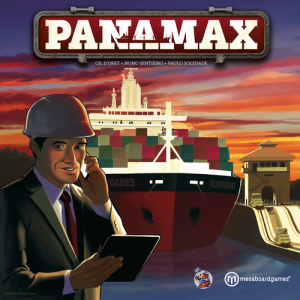 through the famous Panama Canal.  The game's release is perfectly timed to celebrate the 100th anniversary of the Canal's opening.  The Press Release goes on to describe some of the unique game mechanics introduced in Panamax:
In Panamax, players represent companies established in the Colón Free Trade Zone, the largest free port in the Americas, at the entrance to the Panama Canal. Players will negotiate contracts to use ships that arrive at both entrances to the Canal, coming from the USA, China and Europe, which will enable them to profit from the cargo and ship movement. Players will deliver containers onto ships, move ships through the Canal by opening and closing the locks of the Panama Canal, obtain better contracts, invest in the stock market, and hire the best people to work for their companies.

Panamax utilizes several original game mechanics. The highly interactive ship movement system requires players to move their ships through the locks of the Panama Canal, which will also push other players' ships through the canal simultaneously. This ship movement must be done as efficiently as possible, while not providing too much benefit to the other players' ships. There is also a die-based action selection system, whereby players remove dice from the movement or cargo loading areas to perform actions. Timing and efficiency of a player's actions in Panamax is crucial to victory.
 Look for Panamax to debut in Essen, Germany in October 2014 at the annual Spiel game convention.
Mysterious Warhammer 40k LCG
Rumors abound that Fantasy Flight Games (FFG) will be releasing Warhammer 40k Conquest, a new Living Card Game (LCG) to replace its now defunct Warhammer Invasion LCG. A few internet sleuths were able to grab a screenshot of the accidental (or was it?!) webpage slip up by FFG last week. Fans of the Invasion LCG, as well as the Warhammer 40k universe, will no doubt whistle a happy tune at this news. I have never really gotten into the 40k universe but, as a lover of all things card related, I'd be willing to give it a chance if it piques my interests.  We'll keep our eyes peeled for more details on this title but it appears a few people are already stuck in a constant loop clicking refresh on their browsers.
It's Electric, Boogie Oogie Ooogie
Move over Ticket to Ride, there is a new deluxe edition coming to town that has boardgame enthusiasts…enthusiastic.  As reported on BoardGameGeek news, German publisher 2F-Spiele will release Funkenschlag Deluxe: Europa/Nordamerika,  a revamped version of Friedemann Friese's classic hit. Power Grid for those not fluent in the mother tongue.
Funkenschlag Deluxe: Europa/Nordamerika will feature the same gameplay of the other games — purchase resources to fuel power plants that you purchase via auctions to supply power to cities in a network — with this game having "two giant-sized maps (Europe and North America), completely new power plants, a new resource type (natural gas), new wooden pieces for resources and player tokens, and new plastic coins as currency".
This one will also make its way into your loving arms at the Spiel game convention in October 2014. I'm starting to think I should be in Germany this fall.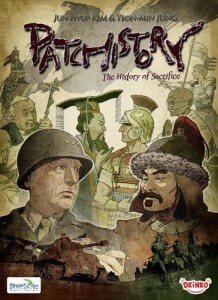 PatcHistory Pre-Order
And, finally, speaking of the Spiel game convention, Stuntkite Publishing has opened up pre-orders for the English edition of their acclaimed civ-building game, Patchistory, for 2-4 players. This title received heaps of praise from attendees of last year's Spiel due to its strategic gameplay and unique card overlap mechanic.  Here is how BGG describes the game:
Patchistory is a strategy board game with cards that symbolize historical heroes and wonders, with the whole game being divided into three eras. During the game, you acquire these cards through auctions and expand your territory by placing cards so that they overlap one another in a 5×5 space in the first era, a 6×6 space in the second era, and a 7×7 space in the third era. When your land – that is, the layout of your cards – is well built, the card functions are activated. You can earn victory points with diplomatic actions, domestic politics, war movement, the actions of production, etc., and at the end of the game, the person with the highest score after the third era wins.
The pre-order copy will set you back $60 but pre-orderers will also receive the following add-ons in addition to the base game:
1 Pack of Mayday (7124) Sleeves (enough to sleeve all 75 Auction tiles, 15 Vote tiles, and 6 promo tiles); and

6 North American Promo Tiles:  Pacal, Montezuma, Sacagawea, Benjamin Franklin, Harriet Tubman, and Mr. Throw Up Your Deuces himself – Richard Nixon.
For more information, check out StuntKite Publishing's website at:  http://www.stuntkitepublishing.com/
Until next time, stay classy and keep your game(s) tight!