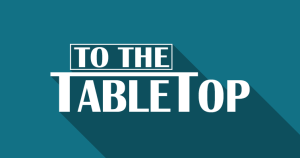 Let's check out some of the latest releases that you can now add to your collection!
1.

Quantum

, Passport Game Studios
Command your dice-fleet and conquer your sector of space before your opponents!
2.

Tokaido: Crossroads Expansion

, Passport Game Studios
The new expansion to Antoine Bauza's tourist journey through Japan. Expect more great art and new things to see in your travels!
3.

Rumble in the Dungeon/Rumble in the House

, Flatlined Games

Two cool little king-of-the-hill style games that involve you and the other plays duking it out to be the last left in the house…or dungeon…
4.

Lord of the Rings LCG – Nightmare Decks

, Fantasy Flight Games
Three new Nightmare Decks, featuring the worst of the worst (enemies) from the Shadows of Mirkwood cycle, are now available!
5.

Venetia

, Passport Games Studio
It's been a busy week for PGS and this third title is one of strategy and influence in the golden age of the Mediterranean.
6.

One Night Ultimate Werewolf

, Bezier Games
A new take on an old favorite! In this new rendition, you have one round (yes, one) to figure things out. Get eaten? New game!
7.

BattleCON: Devastation of Indines

, Level 99 Games
A standalone addition to the BattleCON series, Devastation of Indines provides head-to-head and team dueling experiences! I've been following this one for some time now and am excited to see it available.
8.

Belfort: The Expansion Expansion

, Tasty Minstrel Games
No errors in that title. The formerly Kickstarted expansion to Belfort (one of my favorite medium-weight Euros) is here! This one offers new tiles and guilds, as well as Assistants to be used each round.
9.

Eminent Domain: Escalation

, Tasty Minstrel Games
New technologies, a purpose for ship sizes and roles for a fifth player! This solid deck builder gets some nice additions.
10.

Gear & Piston

, LudiCreations
An interesting card game about creating an automobile prototype, marketed to families. I don't know much, but it could be cool!