The Best Storage Solution for Dominion Yet
Owen Faraday at Pocket Tactics reported late last week that a new partnership between Goko and the developer Making Fun will lead to a mobile-ready version of the ground-breaking deckbuilder, Dominion, guaranteed to drop this year. With more expansions than a fast-food chain, Dominion currently offers deck-building fans thousands of cards to play with. A well executed digital version has been longed for, and it looks as though the wait will not go on much longer. Head over to the Pocket Tactics website to read the full article.
Pandemic: Legacy, Where All Big Diseases Get Their Start
A mysteriously FBI-style censored press release hit the web today, with details confirming the production of the long-rumored Pandemic: Legacy, to be published by Z-Man Games. The letter, a transcript between what seems to be the game's designers, Rob Daviau and Matt Leacock, doesn't offer much in terms of specifics, but it does tell us a few things. For one, the game exists. Daviau is currently hard at work with SeaFall, his latest Legacy title, but with that being handed off to Plaid Hat Games soon, it seems his next project is already underway. Second, the game will feature the Legacy-style permanent changes. Characters can die, areas can be decimated, and story-telling across plays will be emphasized.
This is a big step for the Pandemic line, and the game is easily one to keep an eye out for. I just hope one of the secret packages you have to open doesn't contain a spring-loaded vial of Ebola.
Return of The Night of the Living Dead…Again
There are few things that we know of for sure in this world: Gravity; Dinosaurs; the awfulness of the New England Patriots; and CoolMiniorNot's Kickstarter Campaigns.
With 27 days to go, Zombicide Season 3 has already double-tapped their funding goal and grossed over $500,000, more than 500% of their target. This time around, fans of the game have the chance to get their hands on more heroes, more gear, and three new zombie types, including the grotesquely mutilated A-Bomb Abomination. Also featured this season is a mini-expansion, Angry Neighbors, which adds in support characters and more map tiles to run new scenarios or custom-build your own.
Most likely the biggest news regarding this campaign is the introduction of Team and Player v. Players modes, allowing you to take pot-shots at your friends in between walkers. To see the full extent of the game, head over to their Kickstarter page.
Board Gaming Gets Trumped By….Reading!?
Kickstarter has been met with staggering growth over the past few years, offering a variety of different individuals and companies the opportunity to gauge the demand of their new ideas and products in the real market before production even begins. Though opinions may differ, there is no denying the effect that Kickstarter has had on our hobby in particular, with projects like Zombicide, Bones Miniatures, and Kindgom Death: Monster grossing millions of dollars each.
That being said, Kickstarter has officially crowned a new king this week, with The Reading Rainbow Project now becoming the most backed campaign in Kickstarter history. While a few projects have made more money, the $4.5 million for Reading Rainbow comes from over 92,000 unique backers. Additionally, Seth MacFarlane of Family Guy fame has agreed to match dollar-for-dollar, up to $1 million. Wild. Though not necessarily board game news, it is still quite amazing and if our kids don't love reading, how are they going to teach Twilight Imperium III to their friends?
Convention Season Rolls On
This Tuesday, July 2nd, will be the first day of the next big 2014 board gaming convention, Dice Tower Con. Lovers of all things board games and Tom Vasel can join in for 5 days of "Non-Stop Gaming Fun" in Orlando, Florida. While the Con itself is sold out, there is still a wait list for those who have a personal jet on standby. Alternatively, you likely have a good shot of stumbling across some gamers in the area and getting in a play of something.
For those, myself included, who will be gaming at home instead, stay tuned to the different social media outlets for updates. With Tom Vasel around, you never quite know who or what might pop-up.
Never Laugh at Live Dragons
Details have surfaced regarding Bruno Cathala and Ludovic Barbe's new Press-Your-Luck game, Dragon Run. The title pretty much says it all; you're an adventurer who has just raided a dragon's keep and…it's time to run! The dragon has awakened and it's your task to get out of dodge. According to the press release: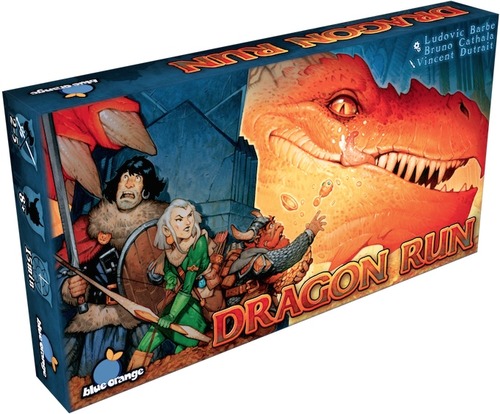 On each turn, a player can either advance boldly, flee cautiously or cry like a baby.
Depending on your choices, your likelihood of escaping first will increase, but so will the odds of bumping into the dragon. The game sounds fairly straightforward, but adds in some welcome humor and a slick retro look. If fleeing for your life in heavy plate armor sounds like a weekend retreat, keep an eye out for Dragon Run.
Funforge Begins New Lesson From Sensei Bauza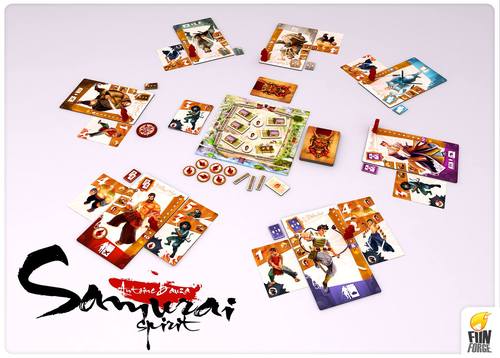 Funforge has released their promotional image of Antoine Bauza's newest release, Samurai Spirit, with word that it is now headed to print. This is a welcome surprise for fans, as it could mean that the game will be ready for release by GenCon 2014. The game is a cooperative for up to 7 players, in which the group of samurai heroes will work together to protect a town from an onslaught of baddies. Though Mr. Bauza has admitted that it is very Ghost Stories-esque, he assures those interested that it is still a very different game. Overall, Samurai Spirit is a shorter game that hosts many more players and removes some of the more random elements from Ghost Stories, such as the attack dice. One thing that does not differ is the choice of a beautiful art direction, courtesy of Victor Corbella.
This will, without a doubt, end up in Dan's collection, so keep your eyes peeled for a review in a few months.
New Releases: 6/21 – 6/30
Spurs: A Tale in the Old West – Mr. B Games
Rise! – Crash Games
Warmachine High Command: Invasion of Sul Expansion Set – Privateer Press
Pathfinder Adventure Card Game: Spires of Xin-shalast – Paizo
Warhammer Diskwars: Legions of Darkness – Fantasy Flight Games
Warhammer Diskwars: Hammer and Hold – Fantasy Flight Games
The Lord of the Rings LCG: The Dunland Trap Adventure Pack – Fantasy Flight Games
Bedpans + Broomsticks – Mayfair Games
Star Wars LCG: Join Us or Die Force Pack – Fantasy Flight Games