Binge-Listen, Episode 2: The Spiel
Hello again, everyone! It's been a bit since my last Binge-Listen update, but don't kid yourselves, I have been listening to an inordinate number of podcasts because:
My name is Buns . . . and I am a binge-listener.
I wanted to take time with this blog to feature a cast that has been around longer than I've been in the hobby. For that, it most certainly deserves our attention. Check out my thoughts on The Spiel.
T

h

e

S

p

i

e

l

A show about games and the people who love them.

Hosted by:

Stephen & Dave

Release Schedule:

Bi-Weekly on Mondays

Average Run-time:

120 minutes

General Content:

Discussion, News, Reviews, Contests,

Website:
Overview
Episodes of The Spiel are clearly structured and made up of several individual segments, which will be shuffled around from episode to episode. Each individual episode features a news segment, a full-length review, several sponsor plugs and related discussion, as well as two to three additional segments from their large repertoire. These include things like: contests and puzzles (and their results), secondary reviews of older games, critical discussion of individual game components, interviews, and their patented "Game Sommelier Challenge." Throughout the episode, Stephen and Dave engage in conversation and discussion with each other about their topics, as well as reference the listener directly. Though the casts run an average of 2 hours, each individual segment is broken down into chunks of 20-30 minutes, making stop-and-go listening an option.
This cast has been around since 2006 and has run continuously for 197 episodes. Along with standard reviews, on offer is a wealth of coverage for the three major gaming conventions – Origins, GenCon, and Essen – as well as thorough examination of the Spiel des Jahres Awards, annually.

Buns Thinks
With the robotic recap of the show complete, let me switch gears into fan-boy mode for a bit. I'm obviously writing this post for a reason, and that is I really enjoy The Spiel. I have to say immediately that I am a bit of a bandwagon Spieler…if they have a bandwagon, that is. Given that this cast came to be long before I even entered the hobby, I am definitely behind the curve. That being said, I have been binge-listening to the backlog for some time now, and have caught up on a bit more than I'd like to admit.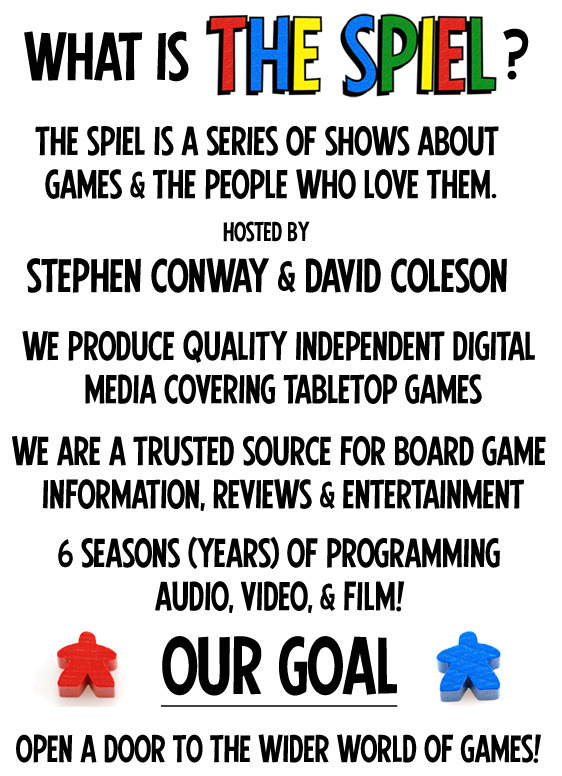 More importantly, the reason why I have become so fond of this show is because of the somewhat incomprehensible amount of information available. From a simple numbers standpoint, we're talking about days of content. More than two weeks worth, to be a bit more specific. And not two weeks worth of commutes. Two weeks straight of board game related discussion. If that wasn't enough, when you listen to Stephen and Dave talk, you get the vague impression that they somehow manage to retain all of that info. The two have such a command over their talking points; their conversation flows so naturally and they are able to bounce from topic to topic with ease, making connections and corollaries that I'm just lucky to even recognize. I really appreciate having the opportunity to learn from these hosts who clearly know what's going on in this hobby.
Mixed in with that is what really drove me to hit the "subscribe" button – how easy going the whole show is. The nature of the conversation is casual, friendly and well-paced; it really just feels like you're listening to people chat about what they find fun and interesting. This is compounded by the chosen segways, which often feature mellow music or something upbeat but not adrenaline pumping. The whole vibe of the show has a cohesion and consistency that I haven't always found in the podcasts that I listen to. It's not a bad thing when it's done differently, I just enjoy being able to count on it from this show.
The last thing I really want to touch on is the show construction – the chosen segments. After 8 years, the show has accrued a number of little segments that pop up from time-to-time, but not during every episode. This makes the format refreshing, as you never quite know what you'll get to hear. The occasional "Truck Loads of Goober" adds a nice discussion that focuses in on the aesthetics and shiny bits of a particular choice game; the "Game Sommelier" is perfect for those who fancy themselves good hosts, as Stephen and Dave try to stump each other (and sometimes guests) with different scenarios that need the perfect game pairing (like maybe…5 games under $30 that can host 7 players, ages 5 to 65; I made that one up but maybe they should…); and the "Back Shelf Spotlight" pulls old relics from the bottom of the New Hotness pile and gives them a quick review, often notifying people like me that they even exist.
Taken together, it's clear why the show has run as long as it has. In a crowded media market and such little time to listen to everything, The Spiel is a staple that you can count on. Whether you believe me or not, give them a listen. I have a feeling you'll have something new to add to your list of favorite shows.
*P.S. I almost forgot – they update the photos as the cast plays, so you can actually see what they're talking about. They're the ONLY show I've ever seen do this. Double bonus points.