THIS JUNE, PREPARE TO GET ANNIHILATED AT THE FIRST ANNUAL MONSTER TRUCK MAYHEM DESTRUCT-A-THON, BROUGHT TO YOU BY DICE HATE ME GAMES. SEE ALL OF YOUR FAVORITE TRUCKS – BIG D, CAPTAIN CRABBY, VALKYRIE, CTHULHU CRUSHER AND TRUCKDOR THE BURNINATOR – TAKE ON THE BUS JUMP, THE CAR CRUSH, AND THE DEATH CHASM! ALSO, DON'T MISS THE TWINKIE GRILL-OFF AND FOUR LOKO CHUG-A-THON. ONLY AT THE SUPERMEGADOME THIS JUNE!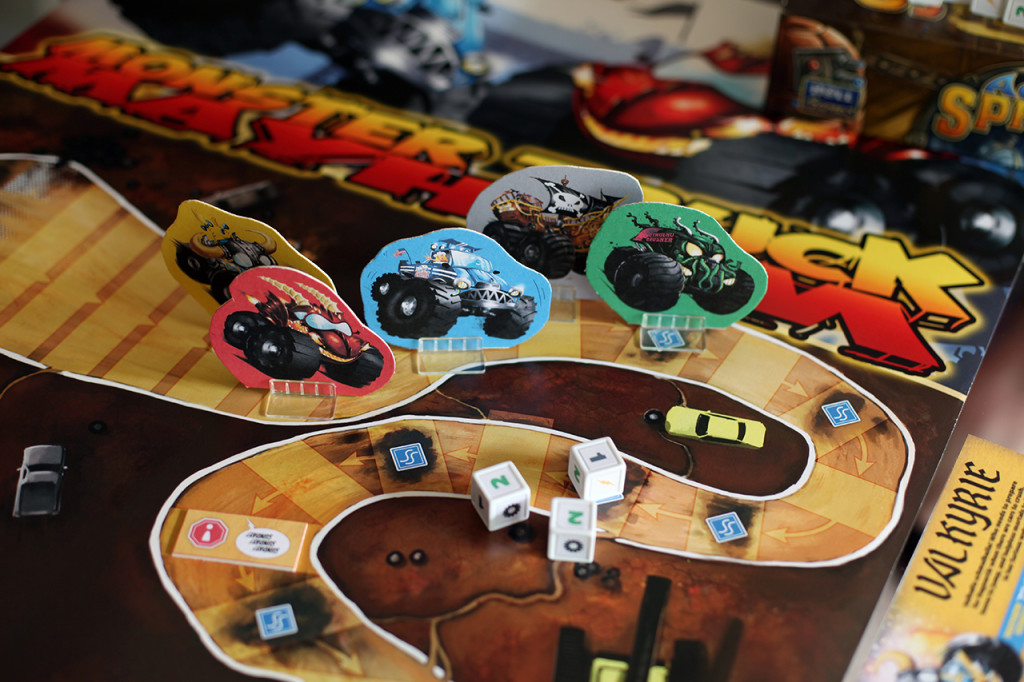 Monster Truck Mayhem (MTM), from Matt Riddle and Ben Pinchback, is a fast-paced real-time dice rolling race of EPIC PROPORTIONS! Yes, the gratuitous use of exclamation marks and capitalization is necessary, because MTM pits 2-5 racers in an all out sprint around the SuperMegaDome. You'll laugh, cry, yell and sweat for 10 straight minutes of furious dice rolling.
The basic mechanisms of Monster Truck Mayhem are simple: players each have three custom dice and will roll them simultaneously to facilitate movement. Rolling two of the same number (1, 2, or 3) allows you to move that many spaces along the track, while three of any number forces you to move forward, like it or not. Rolling three "Boost" symbols kicks your truck into overdrive and lets you move twice as far off the highest die of your next roll. Be careful though, because any player who rolls three "Tire" symbols can spin someone out, forcing that player to regain traction before continuing on.
This core game probably sounds reminiscent of others on the market. Titles like Escape: The Curse of the Temple and Space Cadets: Dice Duel have highlighted the fun and craziness that real-time dice rolling can bring to a game. What makes Monster Truck Mayhem stand out from these others is, well, everything else found in the box.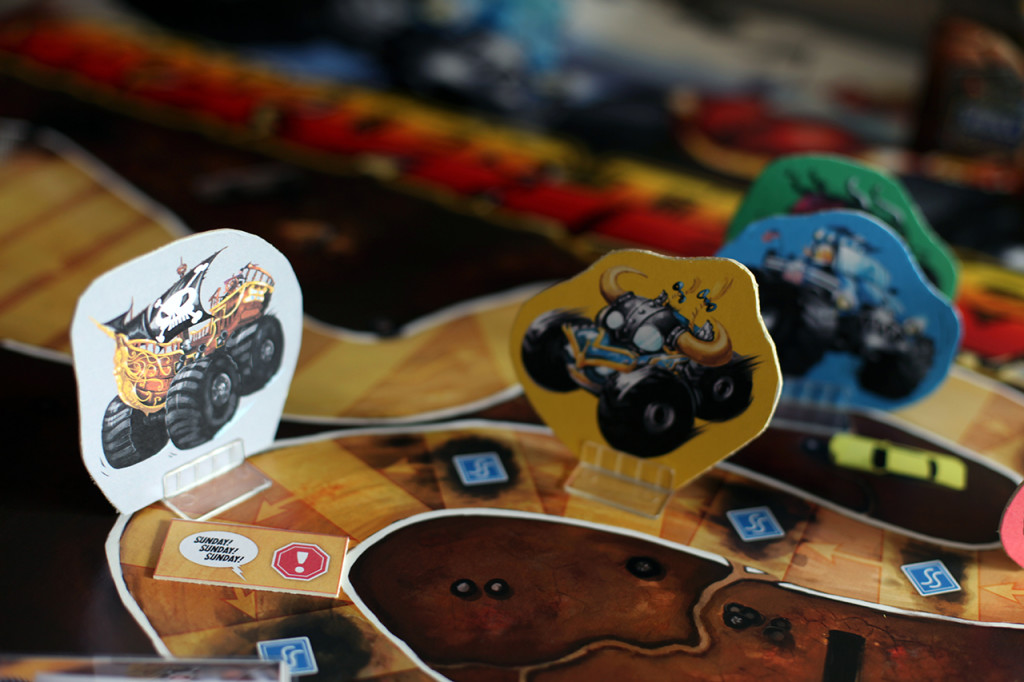 Aside from the fervent yelling and screaming coming from the players, the art from Benjamin Raynal might just be the first thing to grab your attention. Vibrant colors on stylized, chunky cartoon monster trucks make the game feel big and in-your-face. The interlocking, modular track tiles (yep, you heard correctly – modularity = replayability!) have a wonderful amount of detail, from the individual cars waiting to be crushed, to the thick grime of a muddy oil slick that will have you spinning your wheels while your friends catch up. The design of the game makes you feel like you're there at a monster truck rally.
Beyond that, it's also the sheer amount of personality that has been crammed into this game that makes it wonderful. Right out of the box are five asymmetrical trucks that will have you playing again and again in an attempt to find your favorite. Each specific ability feels balanced, yet totally unique and true to the theme of the individual truck. In that same vein comes the icing on the deep-fried Twinkie that is Monster Truck Mayhem: the Sunday! Sunday! Sunday! cards. Half catch-up mechanic, half hilariously awesome thematic integration, these cards come into play at certain points during the race, forcing the lead driver to stop, draw one, and read it in their best monster truck rally announcer voice.
"Attention gasoline-soaked fans, there is a mud-covered Honda Civic in the parking lot with its lights on. If it belongs to you, and you're willing to admit it, you need a jump!"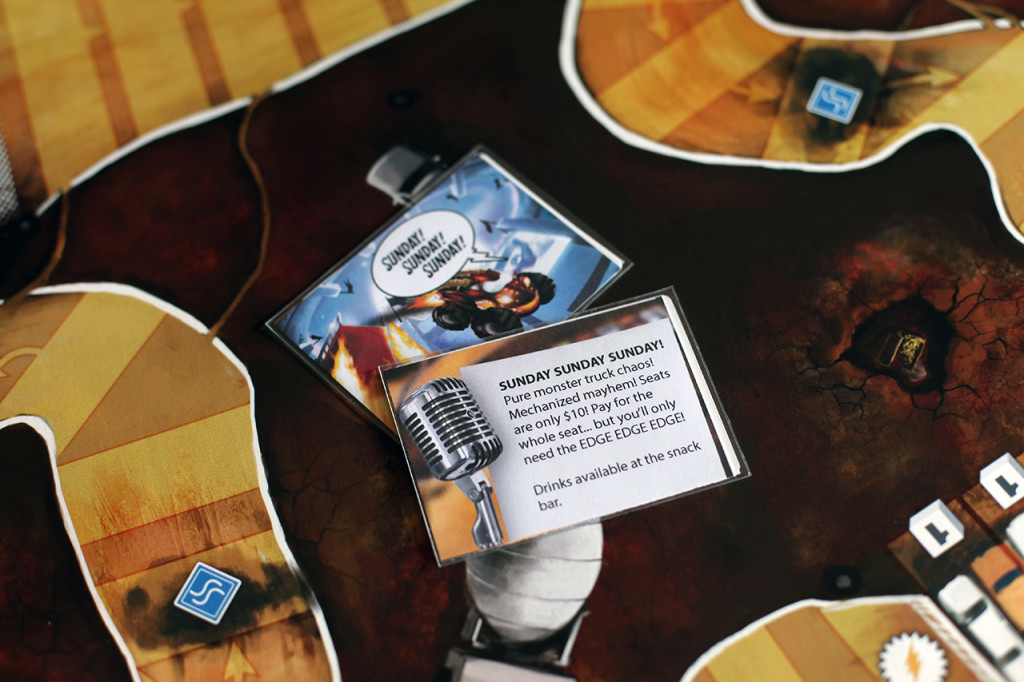 This small touch, which is kind of ridiculous and silly (And, also bloody well awesome. – Ed.), makes such a world of difference in terms of drawing people in. When you explain that rule to potential players, it immediately sets the tone and reveals that this game isn't about winning, it's about having a good time.
As always, the question before any purchase or Kickstarter backing is, "Do I need this? Is this right for me?" To that I say, "I have no idea." Do you like simultaneous dice rolling? Do you like race games? Do you like cardiovascular exercise? Monster Truck Mayhem packs all of this inside a box and makes it difficult to resist with great production value at a reasonably low price. I'd say the only reason to pass on this one is if dice make you itchy or you still have flashbacks to that time you got hit in the head with a beer can at Monster Jam.
League Ruling
Dan

Monster Truck Mayhem does not fit the prototypical mold of a game I would normally play. There are no cubes or stoic European men. Just dice, anxiety, and more sweat than a Richard Simmons video. And I absolutely love it! The frantic real-time rolling, Sunday! Sunday! Sunday! cards and awesome Benjamin Raynal (King of Toyko) artwork combine for the perfect rev up to a lively game night with friends and family. MTM brings all the craziness of a Monster Jam right to your table for a fraction of the cost! Coors Light sold separately.
Tiff

Monster Truck Mayhem is a frenzied dice fest that's bound to bring out the inner child in anyone. Blowing past your opponent as they shout "Sunday, Sunday, Sunday!" at the top of their lungs makes for a raucous fun time. If you want a wildly addictive game that could potentially double as a workout, look no further!
Smee's Two Pence

This is a dice game. A simultaneous dice game. In it, you roll cubes and do what they say. Yet, and this may surprise you, I'm darn well endorsing it. There's something to be said for the madcap mania of a monster truck race, and given that the sound of a rally announcer's voice is encoded in our genetic memory, we should all 'relax' once in a while with a game such as this. Two thumbs up!
Ben

Monster Truck Mayhem is a fast-paced, dice-rolling, no-holds-barred type of game. It teaches and plays very quickly, and is so much fun you're probably going to want to play it multiple times in one go. With the chunky dice being rolled and several people crowding the board there will be elbows flying and, as Kelly yelled at one point in our game, "get your armpit out of my face!" Add the special powers that will absolutely target the player in first, you really can't take anything personal in this game. You'll be cheering for joy after getting that perfect roll and edging out someone for the win or pounding the table because you just couldn't roll what you needed, but either way this game is a lot of fun.
Steve

You may or may not know that dice and I do not mix. I am a notoriously bad dice roller. As you would expect, in my one play of this MTM at Origins this year I ended up in last place. But I was able to roll with ease past the oil slicks and was able to make that sweet jump over the bus! I had so much fun trying to accomplish these small feats on the track that I couldn't have cared less about being in last place. I did want a rematch though!
The League of Nonsensical Gamers would like to thank Matt Riddle and Ben Pinchback for kindly providing us with a prototype of Monster Truck Mayhem for this preview.
Monster Truck Mayhem is currently funding over on Kickstarter. If this game revs your engine, race on over to the campaign page by November 24, 2015 to purchase your own copy. For $29 (plus shipping), you will receive a full copy of the base game plus the Soft Swerve promo truck and all unlocked stretch goals.